I love sensory play! There are so many different ideas on Pinterest. There is no right or wrong way creating a sensory activity. The best part is, you usually have everything in your home OR it's super cheap to pick up the few items you may need.
One of our favorite sensory activities is playing with colored rice.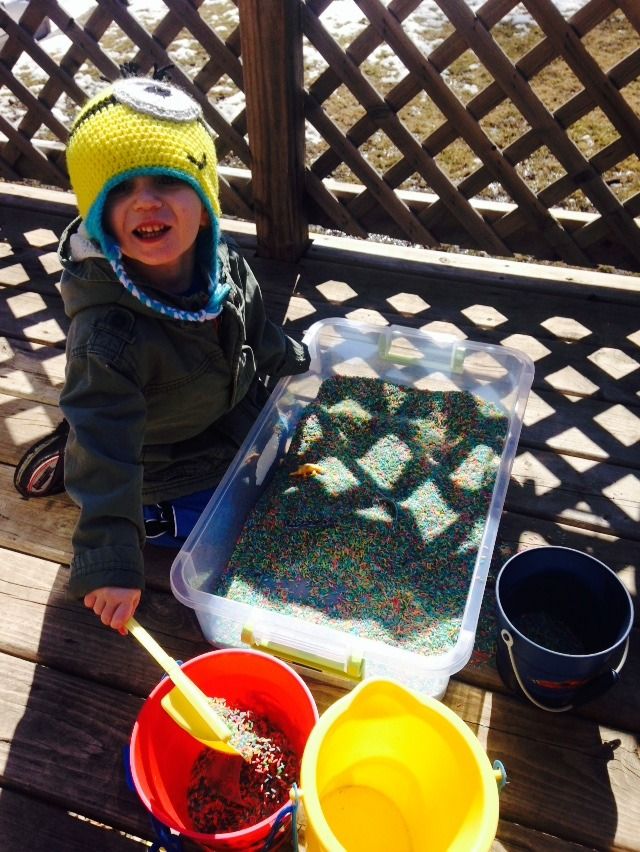 This is normally an outdoor activity for us. We did the rice sensory play inside once and well … it was a mess! I was still vacuuming rice up a month later! I know some lay down a large towel or tablecloth to "catch" the rice and that works for them. My son likes to get a little wild, so we keep it as an outdoor activity 🙂
Noodles are great to dye also. You can use them for sorting, making necklaces, throw in a large bin, and more. It is SUPER easy to dye everything at once. You could also dye oats and sand, but I chose to just stick to rice and noodles today. This entire process was about 30 minutes long and it could even take less time, if you have kiddos to help!
Place your noodles and rice into gallon bags. Just eyeball a good amount. I put about 3 cups of rice into each bag and about 2 cups of noodles in each bag. 
Place about 2-3 Tablespoons of alcohol into the bags.
Squirt 2-3 drops of food coloring. You may want to add more in a bit.
Seal the bags. Make sure they are sealed well or it will be a mess!
Begin shaking! This is where the kids can help.
If the colors are not bright enough for you, add more food coloring.
You can now open the bags and let them dry out, or spread onto parchment paper. I keep them sealed overnight, then let them dry out the next morning. This allows the color to sit a bit longer.
HAVE FUN!
Check out my other fun sensory activities and ideas!