I want to share a fun activity Monte and I did last week … Erupting Sidewalk Chalk
We had so much fun making a mess and painting on our patio outside. I came across this site for the recipe.
Ingredients & Directions (per color)
1/4 cup cornstarch
1/4 cup baking soda
Add coloring
1/4 – 1/2 cup of water
Mix
When adding the water to the mixture, make sure to add it slow. I used 1/2 a cup and I think it wasn't thick enough. I would start with 1/4 cup and then add more if you want. You want it to be thicker so it's more like paint.
I decided to just make three colors, but you could make any and however many colors you want! You can also add glitter to the paint, and/or scents. You can also use whatever items you want, to paint with. Get creative! I had a couple of apples that were going bad, so I cut them in half, and placed a popsicle stick in them to paint with.
Monte had a blast!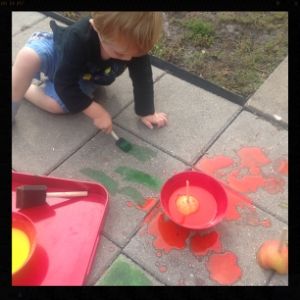 After you are finished painting your masterpiece! Place vinegar in a squirt bottle and begin squirting your artwork. It will begin to fizz and bubble! I think that was Monte's favorite part!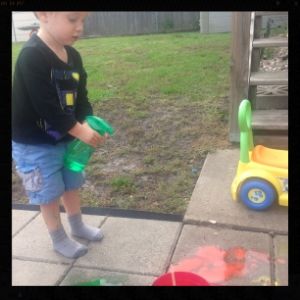 I definitely recommend this activity! I love how simple it is to put together, easy clean up (the rain will wash it away), and you can change up what you paint with and what colors you paint with!
Have you tried using Erupting Sidewalk Chalk before?