There are so many Halloween events that go on this time of year, in the Des Moines area! It's so hard to pick and choose a few to do and see. We did some more fun activities this past week and none of them disappointed!
The Great Pumpkin Party was a three day event held by Valley Church in West Des Moines. We were not able to make it out until the final night, Thursday. Tuesday night was was specifically for families with special needs, which I thought was awesome! This event was so large, it was held at the Valley Church and the Valley Community Center across the street.
We were there right at 6 pm when the doors opened!
They had pony rides, right outside. Monte was soooo close to ride, but he got very nervous once he sat down on the pony.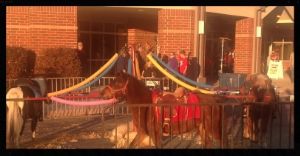 The worship area was full of inflatables and right when you walked in,there was a huge Lightning McQueen inflatable slide. You should have seen the look on Monte's face!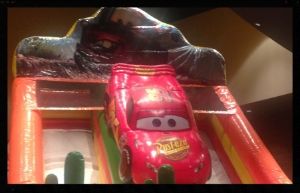 This event also consisted of live music, an illusionist, face painting, photo booth pictures, games, a petting zoo, ice cream, popcorn, lemonade, and MORE! All of this was FREE!
Monte's favorite part of the evening (besides the large inflatables) was taking his picture with the super heroes!
Saturday evening we made it to the Annual Grimes Halloween Fest at the Grimes Community Center.
The whole building was filled with fun activities. As you walked through the building there were people dressed up, handing out candy. There were two different bake sales going on! Inflatables to play on (one of Monte's favorite), a haunted house (we did not go in), a soft-play area for the little kids to run and jump, AND free tours of an ambulance and fire truck!
Monte though the fire truck and ambulance were way cool!
Sunday after carving and painting our pumpkins …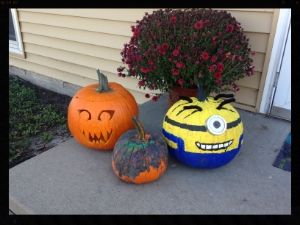 We went to the Valley Junction Pumpkin Walk. The event was 2-6 pm and we went a bit late, around 4ish. A lot of the things were just finishing up when we got there, but we still enjoyed ourselves.
The highlight of the event was, of course, getting candy.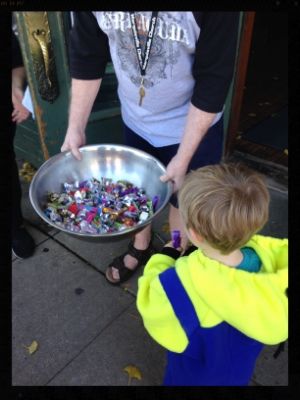 A lot of the stores participated and as you walked through the junction you could stop and get candy! One store, gave away fancy, collectible rocks! Monte thought that was pretty neat!
Green Grounds Cafe hosted children's activities and you could get a balloon animal! Monte got a GIANT sword! There was also a chance to get a FREE pumpkin.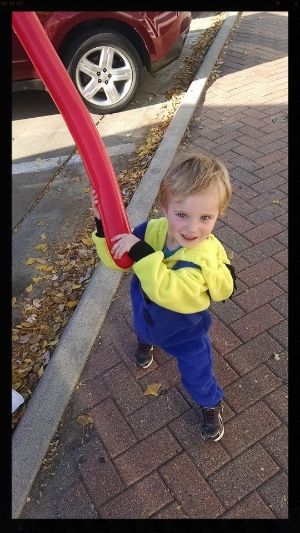 What fun Halloween activities have you been checking out?!