There has been another heat wave in the Midwest! Thankfully, it rained a little last night. When I went outside for work this morning, I could feel a difference in the air. There is a cool down coming our way! BRING ON FALL!!
Last night was Monte's first night back to Kindermusik and he had so much fun! I cannot explain how much I love the Kindermusik program. I will definitely have to write and tell you more about it soon!
Afterwards, since it was so hot, we stopped at the local YoGo, a serve your own yogurt bar. It was sooooooo yummy and felt great on such a hot evening.
I have an awesome new-ish recipe for you! I must say I am pretty proud of myself because I did not follow a certain recipe to create this concoction. It's loaded with veggies and meat, so it makes everyone happy 🙂
You can pretty much put whatever you want into this dish, but this is what I used.
Ingredients 
1 zucchini
1 carrot
chopped mushrooms (about 1 cup)
1 lb ground beef
1 jar of Newman's Own Italian Sausage & Peppers
1 box of Veggie Pasta
Directions
1. Grate your carrot and zucchini and chop up your mushrooms. Set aside.
2. Start a pot of boiling water for your noodles.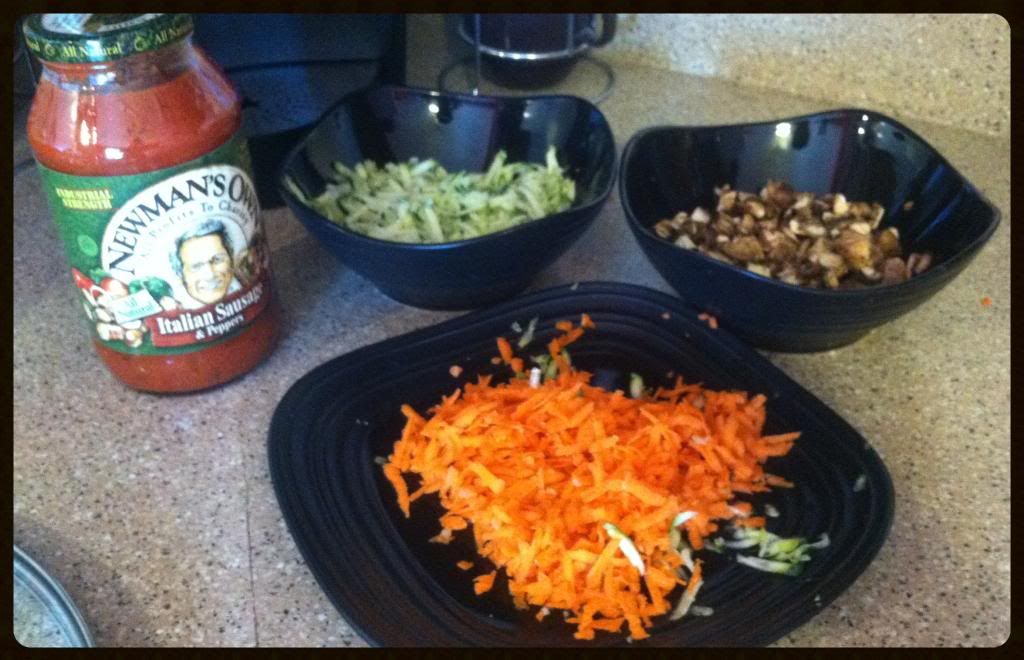 3. Brown ground beef with a little olive oil, until it's a little pink. Then drain the grease.
4. Next, add your grated and chopped veggies to the ground beef. Let saute for awhile.
5. At this point, your water should be boiling for your veggie noodles. Go ahead and boil the noodles until they are al dente.
6. Add your sauce to pan with ground beef and veggies, cover, and let cook for a bit longer.
7. Drain noodles, and place into pan with ground beef, veggies, and sauce. Cover.
8. I turned off my burner and let sit, so it would cook the noodles a bit longer and stay warm until the hubby came home.
9. Top with a little mozzarella cheese and enjoy!
The hubby and I enjoyed this dish, but Monte was being a picky eater again. He ate some of the noodles and the shredded cheese off the top of it. I'm for sure any other toddler would like this, but Monte is going through this weird eating stage 🙁 Anyways, the dish is even better as leftovers!
Do you guys have any problems feeding a toddler? How do you get your toddlers to eat?!?