We checked out another fun indoor activity last week!
Of course, Des Moines Beyond 4 Walls was behind this great find 🙂
This place is perfect to let your little ones run around and burn off some energy and it's FREE! We spent almost 2 hours running, playing, meeting new friends and did not want to leave when it was over.
There are several things available at Tot Lot.
The inflatable pool with plastic balls was a HUGE hit. It's hard to believe something so simple, is so entertaining!
There were a bunch of tumbling mats, toy bikes, huge bin of legos, tunnels, and much more to play with!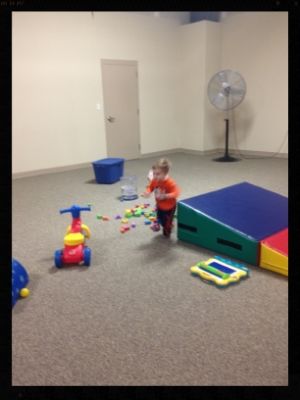 They also had a bouncy house available to play in. I am not sure if this is always available, but the kids had an awesome time bouncing around!
Monte also loved the basketball hoop, shown above. There were also ball hoppers that the kids could bounce around on.
The Tot Lot is located in Waukee at the Public Works Building and is available Mondays 8:30-10:30 am & Wednesdays 8-10 am. The times are kind of early, so make sure you plan for it!
I highly recommend Tot Lot for these upcoming winter months. A perfect place to for the kids to burn off some energy, bring a snack and make a morning of it!