My baby boy turned three years old this past weekend! Oh my gosh, I cannot believe he is already three!! Where has the time gone?!
Monte has recently become attached to the movie Robots. I actually had not heard of it until recently, but Monte wants to watch it ALL THE TIME. It's okay though, because it's a pretty cute movie. Travis and I decided we would have a themed robot party and he loved it!
We decided to have his party at the Grimes Community Center. We rented out a large room and rented the tumbling equipment to go along. It ended up working out perfectly! The kids really enjoyed burning off some energy.
I ordered special invitations from, of course, Etsy 🙂 Unfortunately, I do no have a picture of the invite, but you can take a look to see what they looked like and purchase yours from here!
I also ordered him a special t-shirt with a robot, his name and age on it. This has become a tradition. I usually order a t-shirt with his birthday theme, name and age every year. It's something fun and something we can keep forever 🙂 I ordered his robot t-shirt from here.
We also got the idea to build robots as decorations from Pinterest. They were very easy to put together. We just wrapped old boxes with solid color wrapping paper, added googly eyes, glued pipe cleaners on the top for antenna's, and used construction paper for the rest! They turned out really cute and Monte knew exactly what they were, "Robots!"
We had small snacks, cake and drinks. I found this fun idea on Etsy also! It was easy to print out the labels, fold them, and staple to snack baggies of chex mix. You can purchase these labels here.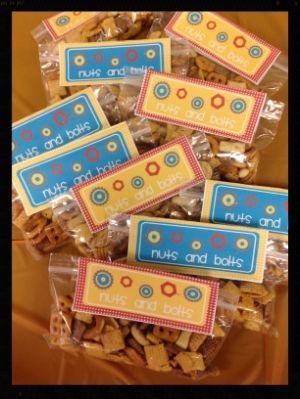 I also offered a small craft … "Build a Bot"! I had foam shapes, googly eyes, pipe cleaners, pom-pom balls, popsicle sticks, and glue sticks sitting out. The kids were able to create their own robots. This was perfect for some of the bigger kids that attended and the little ones loved it also!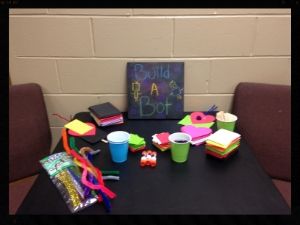 Of course, there was cake! We ordered our cake from Kissner Cakery and I highly recommend her! She did such a fantastic job and everyone loved the cake. Not just the appearance, but it was tasty also.
Overall, Monte had a great time celebrating his birthday. The robot theme came together very nicely and it was super easy! There are so many ideas out there!
What birthday themes have you done?