Winter has hit and settled in the Midwest! Sadly, no more parks for awhile, so we are checking out some great indoor places to run and burn off some energy. We checked out another great place last week … Imagination Playschool.
Imagination Playschool is located at the Pioneer Columbus Center is Des Moines. This was another place I learned about from Des Moines Behind 4 Walls!
It's a large gym that is full with fun activities to do including foam blocks, play houses, tumbling items, and even a walk climbing wall!
Monte's favorite were the cars and cars that went down a hill, kind of like a roller coaster!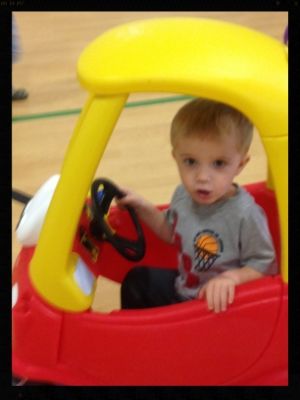 Imagination Playschool is not officially open full time yet. They are hosting a few preview dates and last Wednesday was one of them. They have the following preview dates …
November 26th, 9 am – 2 pm
December 10th, 9 am – 2 pm
Starting in January it will be open certain days of the weeks, every week! It's $2.50 per child to play. It's well worth it, to keep the kiddos busy on a cold, wintery day!
I highly recommend putting this on your list of places to check out!
Have you ever been to Imagination Playschool?