It's Monday!! How was everyone's weekend? I hope everyone had a nice, relaxing weekend and enjoyed the gorgeous temperatures.
I had a great weekend and definitely enjoyed lots of fallish things including: football, pumpkin beer, Crockpot Apple Butter Ribs (recipe coming soon!), apple cider, AND a homemade Pumpkin Caramel Cake …. which leads me to the story of my failed attempt of homemade caramel 🙁
Travis's mom and dad's birthdays were on Friday so everyone came over Saturday evening to celebrate. I decided to make a Pumpkin Caramel Cake I found on Pinterest. The actual recipe can be found here.
The first steps are to make the caramel cream cheese frosting.
FROSTING
1 cup sugar
1/2 cup water
1/2 vanilla bean, split and seeds scraped
1 1/2 sticks (6 ounces) unsalted butter, softened
2 tablespoons heavy cream
1 pound cream cheese, cut into 2-inch cubes
In a medium saucepan, combine the sugar, water, vanilla bean and seeds. Cook over high heat, stirring, until the sugar is dissolved. Using a wet pastry brush, wash down any crystals from the side of the pan. Cook over moderate heat without stirring until a medium-dark amber caramel forms, about 9 minutes. Remove from the heat and immediately stir in the butter and heavy cream. (Don't worry if the butter separates.) Discard the vanilla bean.
Seems pretty easy right? I started with combining the first three ingredients.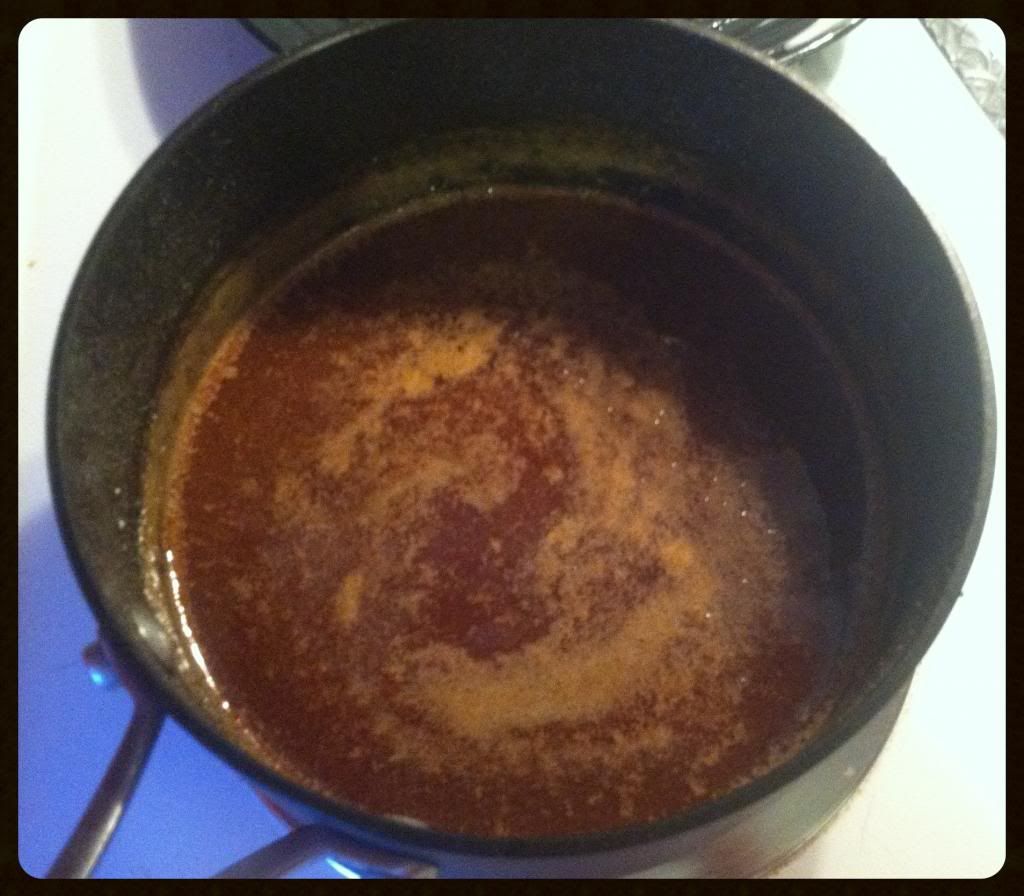 This was also my first time using a vanilla bean. Before this weekend I had always thought a vanilla bean looked like well … a bean? Nope, it was long and looked almost like a twig. You can see the two halves floating around in the pot.
After the sugar dissolved, I turned down the heat to medium and waited for it to turn a "medium-dark amber color". The recipe stated it would be about 9 minutes, but it was much longer then that when I began to notice the change in color. I would say 15 minutes?
It's hard to tell by this picture, but this was my final product. I took the pot off the stove and added the butter and cream and discarded the vanilla bean.
2. Transfer the caramel to the large bowl of a standing mixer fitted with a whisk and beat at low speed until the caramel cools slightly and comes together, about 5 minutes. With the machine on, beat in the cream cheese, 1 cube at a time and beating well between additions, until silky. Transfer the frosting to a bowl and refrigerate until very firm, at least 6 hours.
The caramel looked great, but it definitely had a burnt after taste to it. I added the cream cheese hoping the taste would go away, but it didn't. So I placed it in the fridge and continued onto baking the cake.
CAKE
2 cups all-purpose flour
2 1/4 teaspoons baking powder
1 teaspoon salt
1 teaspoon cinnamon
1 teaspoon ground ginger
3/4 teaspoon baking soda
1/2 teaspoon freshly grated nutmeg
1/4 teaspoon ground cloves
1 1/4 cups light brown sugar
4 large eggs
3/4 cup vegetable oil
One 15-ounce can pumpkin puree
1/2 cup whole milk
3.Preheat the oven to 350°. Butter and flour two 8-inch round cake pans. In a medium bowl, whisk the flour with the baking powder, salt, cinnamon, ginger, baking soda, nutmeg and cloves.
4. In a bowl, using an electric mixer, beat the brown sugar and eggs at medium-high speed until fluffy, 3 minutes. Beat in the oil, then beat in the pumpkin puree. Alternately add the dry ingredients and the milk in 3 batches, beating well between additions.
5. Pour the batter into the prepared pans and smooth the tops. Bake for 40 to 45 minutes, until a toothpick inserted in the center of the cake comes out clean. Let the cakes cool on a rack for 20 minutes. Run a knife around the edges to loosen the cakes, then invert them onto a wire rack to cool completely.
6. Place one layer on a plate and spread with 1 cup of the caramel–cream cheese frosting. Top with the second layer and frost the top and side. Refrigerate the cake for 2 hours before serving.
The cake portion turned out great and I had no issues!
Saturday morning I ran out to the store and picked up another pound of cream cheese. I decided to just use a jar of caramel sauce I already had and mix in the cream cheese.
This frosting turned out a lot better and I felt more comfortable adding it to the cake!
I completely forgot to take a final picture of the cake 🙁 but it turned out great and everyone enjoyed it!
Check out the site where the original recipe was posted for an awesome picture of the finish product
here
!
Have you ever made homemade caramel before? What advice do you have for me so it doesn't taste burnt?