Monte experienced his first, live show on Sunday! When we heard Disney Jr. Live! was coming to town we KNEW we had to purchase tickets to take Monte. I was a little worried about how well he would do sitting there, but once the show began, I knew there was nothing to worry about.
This tour was the Disney Jr. Live! Pirate and Princess Adventure. Monte LOVES Jake and the Neverland Pirates. He loves anything pirates right now. We dressed him up like Jake and he looked adorable!
At the beginning of the show, while everyone is getting seated and adjusted, Doc McStuffins comes out with her toy "Monte" the Monster Truck (what a coincidence!) 🙂 All the children helped Doc make her truck feel better.
Of course, Mickey and Minnie Mouse were there! They helped introduce the princesses and pirates!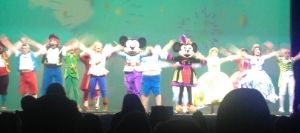 The first half of the show was Sofia the First and all the princesses, including Cinderella!
The second half of the show was Jake and the Neverland Pirates and Peter Pan!
Monte enjoyed dancing, singing and getting involved in all the stories.
If you have not taken your children to a live show before, I think this one would be perfect.
WARNING: Be prepared to spend a ridiculous amount of extra money on light up toys, snow cones and food :/