This Christmas we struggled with ideas on what to get Amelia as a gift. She was only 4 1/2 months old, so there wasn't anything she needed or wanted. I came across this idea for a Sensory Board from someone else and searched them on Pinterest. I had no idea how popular they were! When you search for them, so many different types popped up! I was so excited to do this for Amelia. It was inexpensive and creative.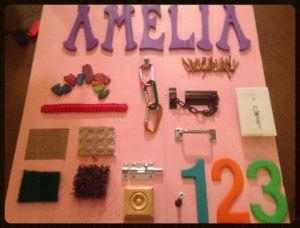 We purchased everything from Menards, besides a few items we purchased at Michaels. Here is what we used for our sensory board:
You need a board – Ours is 2 feet by 2 feet. You can get much larger or smaller. We thought this would be the perfect size to pull out and store away when it is not being used.
Spray paint – I decided to spray paint ours pink. There are a lot of people who just leave it the natural wood color also. It's whatever YOU want to do!
Chain door guard
3 inch spring door stop
Switch & plate
Red paracord bracelet
3 carabeeners, different colors
3 carpet samples
Sandpaper
Door chain
Sash lift
Spiky wood chain – Michaels
Colored glass rocks – Michaels
Super Glue
Wood Glue
Screws & Drill
Wooden letters & numbers – Michaels
Various paints for letters & numbers – Michaels
Wooden square sample
Total at Michaels – $25.86
Total at Menards – $38.50
Total = $64.36
I love how this turned out. I also love that you can do anything to create it your own. Travis and I enjoyed creating this together too!