Since this is Midwest Mom & WIFE … let's talk about an awesome place to check out for date night 🙂
Travis and I were lucky to have someone watch our kiddos Saturday night for Valentine's Day. We decided we would go downtown and check out the new restaurant RoCA!
They had delicious food, drinks and wine! Travis and I are big wine drinkers so we bought a bottle of Syrah. Our bartender was very knowledgable in wine and drinks. I actually learned a bit about wine while we were there.
We also tried the Smoking Gun cocktail. Travis and I are not big bourbon drinkers, but we were intrigued on how the drink was made! They take an old bourbon bottle that has a little bourbon and maple syrup on the bottom. Then they pump smoke into the bottle. When the cocktail is brought to you, you let the smoke sit and after a few minutes you pour the drink into your cocktail glass. It has a very smokey flavor. It was something new and different!
RoCA is known for their shared plates, boards, and schpreads. I am a huge cheese lover, especially when we are drinking wine! We ordered the Combine Meat & Cheese Board. Oh my goodness, it was perfect! There was goat cheese, blue cheese, pastrami, pickled cucumbers, nuts, and more. It was perfect! We also split the Smoked Mac & Cheese, which was delish also!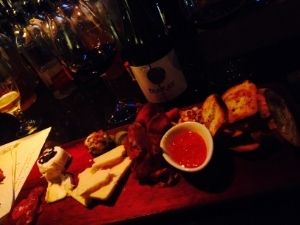 RoCA is the perfect date night spot! The atmosphere is fun, the staff is knowledgeable and the food & drinks are delicious!