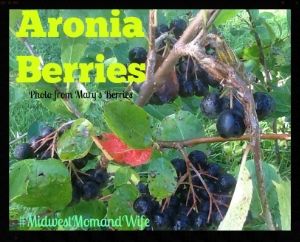 You may have seen my post about elderberries and elderberry syrup. It's been one of my must have items when cold and flu symptoms start showing, or even better, to prevent them! I was introduced to a new superfood this summer, aronia berries. Aronia berries are also known as choke berries and are about the size of a blueberry, but more bitter.
Aronia berries are different then any other super berry such as acai berries, blueberries, elderberries, and so on. Aronia berries have the highest dose of anthocyanins! HUH?! I had no idea what that was either. Anthocyanins is the dark purple pigment color of the berry. This is the part that carries the greatest benefits such as:
Strong antioxidant properties
High levels of vitamin C
Protect against colon cancer, diabetes, & heart disease
Slow down aging
Protect skin from environmental pollutants, tobacco smoke & UV radiation
(Image Source)
Now that I've told you all about these wonderful, super powerful berries, let me tell you where you can find them!
Marys' Berries, located in Leon, Iowa is ran by Mary Johnston and her husband. In October of 2010 they planted 1100 plants and in 2013 they had harvested about 1200 pounds! Aronia berries start producing on their third year. Last season, they picked about 3000 pounds! That is a lot of aronia berries! Mary's Berries are organically certified and they only use water.
Mary explained that they are a lot of work, including: weed eating, watering, mowing, and crawling around on the ground pulling weeds. They are ready for picking towards the end of August, beginning of September. She knows when they are ready by measuring the sugar content of the berries.
Each year they sell most of their berries to Sawmill Missouri Valley, but do offer for people to come pick their own for $3 per pound, which sounds like an awesome deal. Mary's daughter, Sarah Norman, also sells them for $6 a pound if you are not wanting to make the trip to pick your own.
Sarah, Mary and her husband have had tremendous results taking aronia berries daily including the removal of inflammation, it also has helped protect them from viruses, flus, and colds.
Now that you know about aronia berries, you know where and how to get them, let's talk about how you can consume them. The best part! 🙂
There are three different ways you can consume aronia berries:
Whole, blended in smoothies
Baked into yummy treats
Made into a concentrated syrup
Sarah Norman, daughter of Mary, regularly makes a concentrated syrup. Here is her awesome recipe you can try at home!
Aronia Berry Syrup by Mary's Berries
1 pound aronia berries fresh or frozen
Water to cover
1-1.5 cups raw honey
1/2-1 teaspoon cinnamon
Stock pot
Immersion blender
Mesh Strainer or Cheese Cloth
Put berries in a small stock pot and add water until berries are covered. Bring to a simmer for at least 30 minutes and mash/immersion blend them as the berries begin to pop open. After simmering for at least 30 minutes pour through a fine mesh strainer or through cheese cloth, over a bowl and press the berries to get all the juice. Get 2 pint jars and fill about 1/3 full with raw honey (1/2 – 3/4cups depending on sweetness preference). Add 1/4 – 1/2 teaspoon cinnamon and then pour in still warm juice leaving plenty of headspace to blend. Blend the juice, honey, and cinnamon until completely combined, then top off with more warm juice and shake to combine all.
Makes 2 pints.
Important: clean up any spills or splatters immediately! Aronia berries stain!
 It is recommended to consume about an ounce a day which is about 25 berries OR 1/4 cup!
If you are taking the syrup 1 Tablespoon or less is recommended for adults!
So drink up!
References
Health Benefits of Aronia Berries (Chokeberries)
Mary Johnston from Mary's Berries
Sarah Norman