Sunday was a gorgeous Fall day! A perfect day to get one of our items crossed off our 2013 Fall Bucket List!
We went to Apple Pumpkin Fest at Wills Family Orchard. The orchard is located outside of Adel, so it was a bit of a drive, but we enjoyed the beautiful scenery.
When we arrived, we walked up to the store to check out what was going on. They had some yummy samples of their homemade applesauce, apple butter, some of their jams, and apple cider donuts.
Monte was a HUGE fan of their applesauce. We ended up purchasing a jar to take home with us.
In the store they have picking instruction and tid-bits for picking apples on their orchard. We glanced through the tips and purchased a bag, to place our apples in. The bag was a really good size! You pay $25 for each bag and you can fill it up with as many apples as you want! It's a pretty good deal for fresh picked, organic apples!
Next, we walked towards the orchard, but made a stop to see the goats and chickens. Monte was not too sure about either of them and would not get very close.
We continued on our walk to the orchard. When we got there a very friendly gentlemen was there to point out which trees were good to pick from and some other tid-bits on how to pull the apples off the tree. When you pull them off, you want to leave a spur so next year an apple will grow from that spur.
Monte got the hang of it very quickly and was picking apples left and right! He did such a good job picking them and placing them in the bag.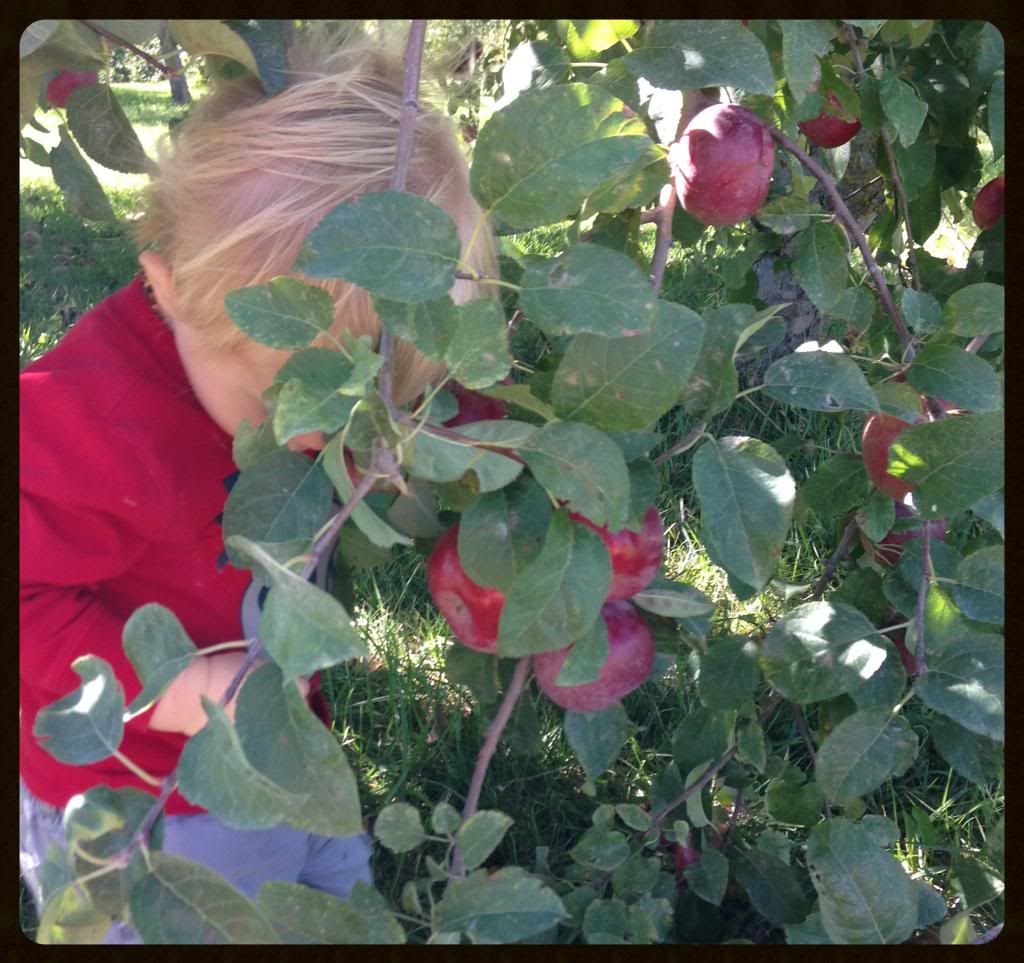 Each bag holds a peck of apples, which is 10 lbs! Here is are peck of apples …
When we were done picking apples we headed back up to the store. For the Apple Pumpkin Fest they were grilling brats, hot dogs, and had other yummy goodies to eat. We sat down and ate some brats!
Monte had more applesauce 🙂
Monte also had a chance to paint a small gourd for 50 cents. He is so talented!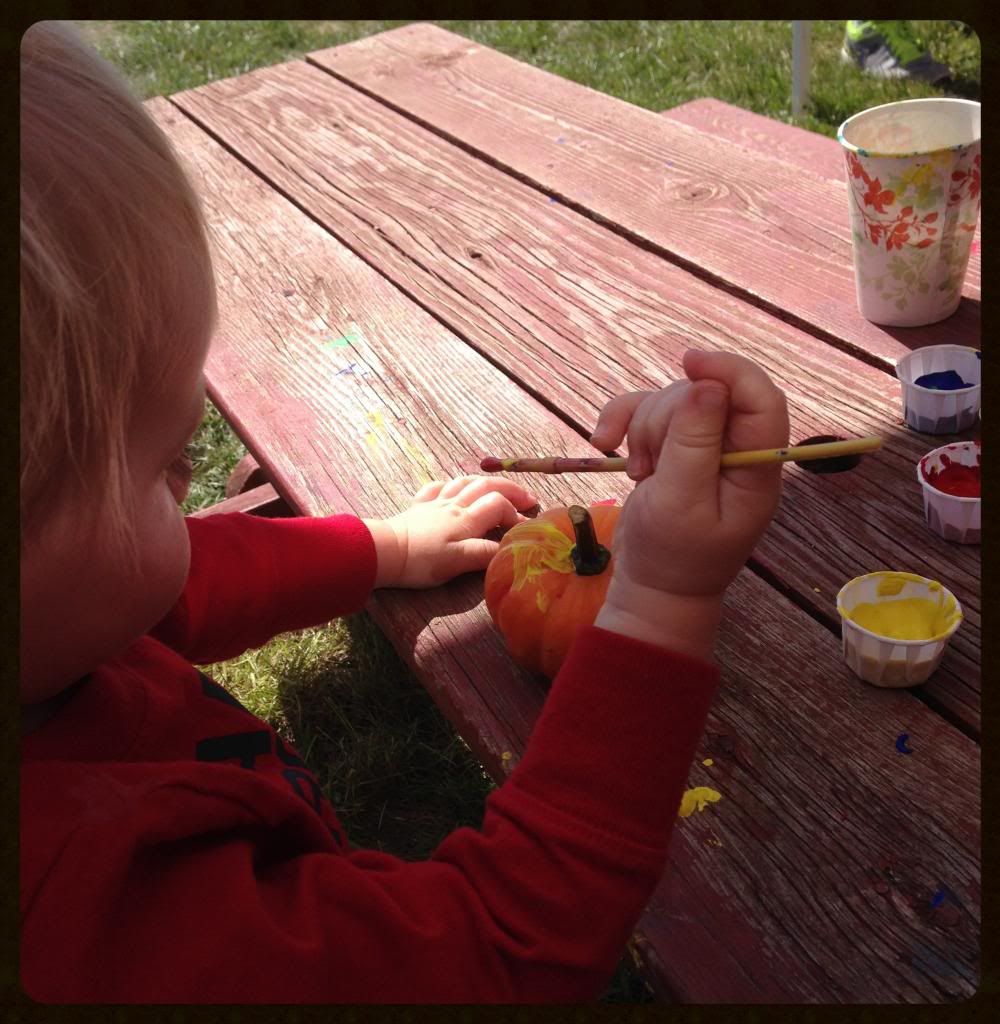 The last thing left to do was pick a pumpkin! We headed over to their 3 acre pumpkin patch! Monte had so many pumpkins to choose from, he just could not decide!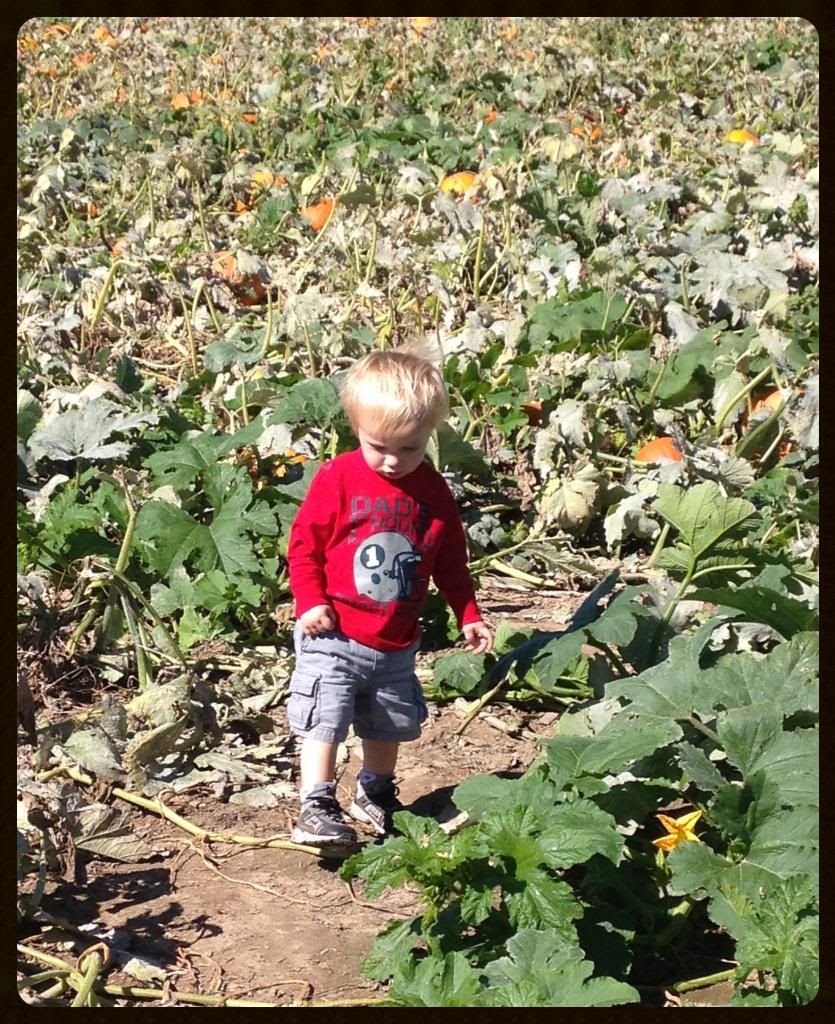 Overall, we had a great time and I definitely would recommend everyone to make the drive out to Wills Family Orchard. It is well worth it for some yummy organic apples. They also have cider, apple pies, apple butter BBQ sauce, and more! All of this is organic too!