Monte and I have fallen in LOVE with the Valley Community Center!
I learned about the Valley Community Center from my favorite Facebook group, Des Moines Beyond 4 Walls! This place has so much to offer for FREE and/or not very much money! Not only for children, but for adults also!
Our favorite thing is the kids play area. It is a great place to take your kiddos when the weather is icky and cold. Monte can spend hours running around, playing on the equipment and meeting new friends. Oh, and it's FREE! Score! 🙂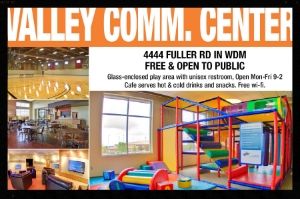 There is free Wi-Fi and a small little cafe, Maplenol Cafe, where you can order espresso, coffee, smoothies, and small snacks. There is also a  fire place in this area with big comfy couches. You should always be supervising your child while they are in the play area, but there are large glass windows so you can sit in the cafe, sip coffee and watch!
The Valley Community Center also offers classes for a small fee for children and adults. Right now they are offering …
Creative Dance for Kids
Zumba Fitness for Kids
Barre
Cardio Low
Zumba Fitness for Adults
Mat Pilates
Kids in Motion
Homeschool PE
These classes are between $3-$5 a class. You can buy a punch card and save some money! Some of these classes and other classes, I have not listed, may require pre-registration. Check out here for an entire list and calendar!
The Valley Community Center is only open during the week, but you can reserve certain areas during the week and/or weekends. I think this would be an awesome place to reserve out for a winter birthday party! Check out here for more information and prices.
What is your favorite thing to do at the Valley Community Center?