This year we checked out One Starry Night at the Grimes United Methodist Church.
It was amazing!
One Starry Night is not just a live nativity scene, but it's a journey you take through Bethlehem and end at a live nativity scene. The whole church is set-up like Bethlehem, everyone is dressed up accordingly and there are live animals! Monte enjoyed the real life experience. The entire time, he was completely engaged in what was going on.
When you enter the church you register your family at the census table and receive your denarii, in a little cloth bag. Monte made sure to hold on to the denari and paid whenever he needed to. Then you walk into the worship area where you get to take a family picture!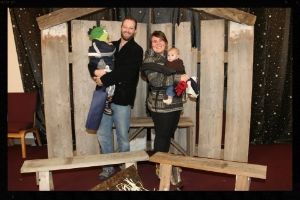 Of course, Monte wouldn't look at the camera!
As you wait in the worship area, waiting to start your trip through Bethlehem, you can snack on cookies and hot cocoa. There is a large screen with a Mickey Mouse Christmas movie playing to keep the kiddos entertained for a bit. There was also three young ladies who sang some Christmas songs, while we waited.
Then you get to enter the town of Bethlehem! Your first stop is to pay taxes. Monte had to pay one denari! Then we ventured outside where we looked at the stars with the shepherds and angels appeared to deliver the good news.
We then saw King Herod receive the news from the Magis. We traveled with the Magis through Bethlehem and even looked for a place to stay the night, but there was no room at the Inn.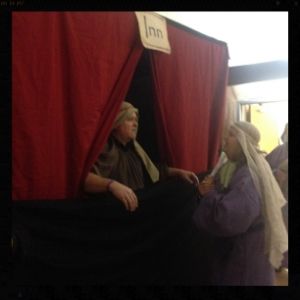 We traveled back outside and saw baby Jesus and the live nativity scene!
After our travels, Monte spent the rest of his denari on animal crackers, making a clay pot, a Christmas bracelet, an ornament and a scarf !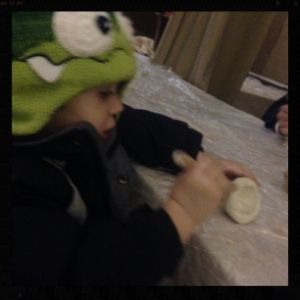 I loved every moment of One Starry Night. Not only did Monte learn about baby Jesus, but he also learned the value of giving his denari to be able to go on the journey, do a craft, or eat some food. Oh yeah … and the entire thing was FREE!
This will definitely become a new tradition for our family in years to come. Unfortunately, One Starry Night is finished for the season, but I highly recommend putting it on your list to check out in 2015!
Have you and your family been to One Starry Night before?