I have added all of the events in the Des Moines Metro area where Santa may be this holiday season! Let me tell you, he is going to be one busy guy! There are a lot of events this holiday season for the whole family and even a few date night opportunities. Make sure to check out my events calendar on the right hand side of the page for EVERYTHING!
I posted my DIY 2013 Holiday Planner, now I just need to share our 2013 Holiday Bucket List!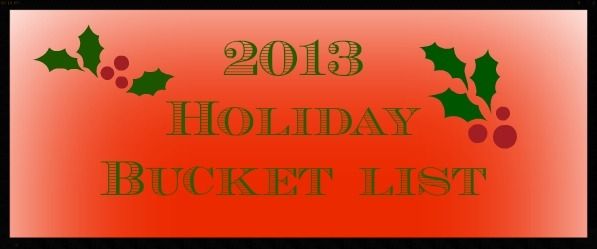 2013 Holiday Bucket List 
1. East Village Holiday Promenade
2. Visit Santa
3. Drink Hot Cocoa
4. Bake and decorate cookies
5. Decorate Christmas tree and house
6. Watch Elf
7. Donate toys
8. Make a homemade craft
9. Watch Frosty the Snowman & Rudolph
10. Make a Gingerbread house
11. Make Epping Family Toffee & Dateballs
Make sure to check out the Bucket List tab on the top of my page. This is where I will keep track of everything we accomplish!
What items are on your Holiday Bucket List?