I LOVE the Valley Community Center. Especially, this time of year because it has been soooooo cold. It's an awesome place for the kids to burn off their energy, you can get some yummy snacks, chat with other parents, AND they have awesome kids classes!
The kids and I spent the entire morning  this week at the Valley Community Center and while we were there we checked out the Creative Dance for Kids class. They had a lot of fun!
The class incorporates fun animals, food, sounds, and more. To get the kids moving, they imitate animals and in this particular class, they pretended their bodies were cake! It's a great way to get the kids using their imaginations.
The kids enjoyed rolling around on the tumbling mat like sea creatures, in the water!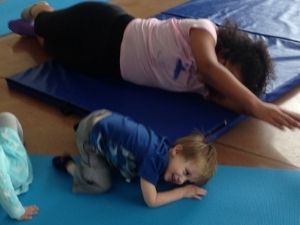 They also use hula hoops to jump in and out of.
Everyone's favorite were the colorful streamers the kids were able to play with! They pretended to paint and danced around.
There were two teachers in the classroom and they were very patient and worked well with everyone. They encourage you to drop your kids off and wait outside, in the cafeteria area, during classes. They were very welcoming to us parents who brought our children for the first time though!
Creative Dance for Kids is for children ages 2 through 5 years. There are several classes that are offered through out the week. They also offer …
Pre-Registration not required $5 per class OR $3 with punch card
Move to the Beat (6-11 years)  on Monday's @ 4:30 pm
Creative Dance for Kids (2-5 years) on Wednesday's @ 10 am
Zumba Kids (3-6 years) on Thursday's @ 10 am
Kids in Motion (2-4 years) on Friday's @ 10 am
Pre- Registration recommended $25 for all 4 sessions of $8 per drop-in class if available 
Inspire Me Pre-K Art (2.5 – 5 years) February 4th – 23rd every Tuesday @ 9:15 am
They also offer Kids Storytime EVERY Tuesday 10 – 11 am for FREE!
The best deal is to purchase an activity punch card. They sell punch cards for 10 classes for $30.00 or 5 classes for $15.00. You can use the punch card for the kids classes AND for the adult classes. Check out their calendar for what classes they offer for adults and for other kids classes/sessions they are offering!