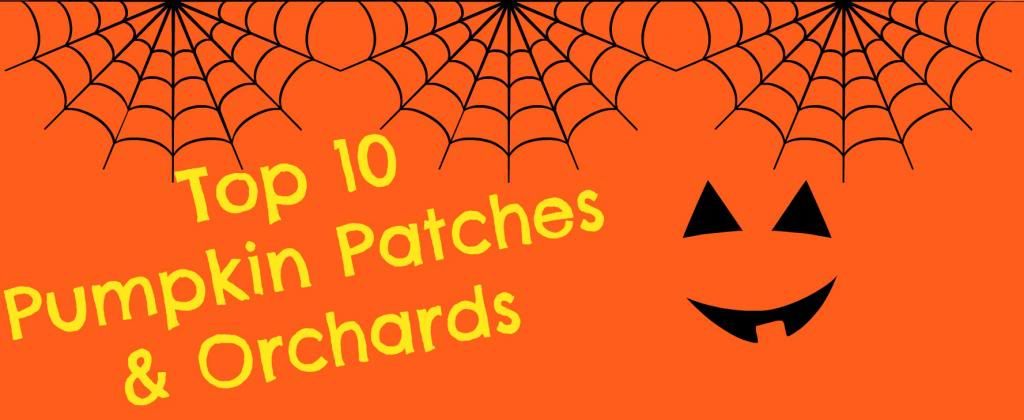 It was SUPER hard to narrow down only 10 pumpkin patches and orchards to visit this year! There are a lot of choices. Make sure to check out their websites for special events they may have going on during this season!
Also, make sure to check out my calendar on the right hand side, for events taking place at various places such as, Living History Farms, the Science Center, Blank Park Zoo and more.
1. Center Grove Orchard– Located in Cambridge which is between Ames and Ankeny. This is my favorite orchard and pumpkin patch to visit every fall. It is loaded with fun activities for the whole family including: apple picking, a pumpkin patch, farm animals, corn maze, corn pool, jumping pillow, hay rack rides, rubber duck races, and much more!
They also have a store with already picked apples, apple cider, apple cider donuts, caramel apples, sauces, and more. Check out their Pinterest board, where they post a ton of ideas for fall.
There is an admission price. Ages 3 and up $9.95 Saturday & Sunday. $7.95 Monday – Friday. They also offer a season pass for their fun farmyard!
2.Berry Patch Farm – Berry Patch Farm is located in Nevada and is actually not too far from Center Grove Orchard! They are known for picking your own produce. We made a trip out there this summer and picked our own blueberries. We came home with about 6 lbs! Right now, there are several varieties of apples, green beans, and raspberries to pick from.
On Saturday and Sunday there are hay rack rides available, along with pumpkins and gourds too!
There is NO admission to pick. You only need to pay for the produce you take.
3. Iowa Orchard– The Iowa Orchard is located right in the city, in Urbandale! Do not be fooled by the name, they also have lots of pumpkins and gourds available to pick from. They offer lots and lots of varieties of apples. They also offer pies, apple cider, different sauces and much more!
Available Friday, Saturday, and Sunday they offer hay rack rides, which also include access to the hay bale slide, corn box, tire obstacle course, face painting, and horseshoe toss.
There IS an admission for the hay rack rides. $4 per individual or $15 for a family of 4. No charge for ages 2 and under! There are also tour packages you can sign up for. Check out their website  for more information! Of course, there is  no charge to walk through their shop and purchase items 🙂
4. The Pumpkin Ranch – Located in Winterset. Not only do they have pumpkins to pick from, but they offer a 9 acre corn maze! Along with hayrack rides, horseback rides, zip lines, slides (new this year), playground, and jump house. Also, photographer Allison Knox will take a picture of you and your family for FREE! For times that she will be available check out the website.
There IS an admission. $8 per person, children 2 years and younger are FREE!
5. Geisler Farms – Located in Bondurant. They have a 10 acre corn maze which features the Ankeny high schools logos. There is also a fun zone available for a small price. Included in the fun zone area is swings, rubber duck races, and other fun games.
There IS an admission. Corn maze, fun zone, and hay rack ride $8. Corn maze and fun zone $7. Fun zone only is $2
6. Wills Family Orchard – This is a definite must do this fall season! We already made our trip to Will Family Orchard and enjoyed every minute of it! Located just west of Adel, they offer organic apples for picking, a pumpkin patch, farm animals, a cute little store to shop at and paint your own gourd!
There is NO admission, but you do pay for whatever pumpkins you pick and apples you pick!
7. Patch Pumpkins & Honey Farm – Also located in Adel! Another pumpkin patch with lots more then just pumpkins! They have a corn maze, kid corn maze, duck races, corn pit, petting zoo, play center, bounce houses, and more!
They also have honey, pumpkins, apples, gourds and other various items to purchase.
There IS an admission. $5 per person. Ages 2 and under are FREE! $10 for a season pass. They offer discounted pricing for week days.
8. Howell's Pumpkin Patch – Located in Cumming. They offer a pumpkin patch, corn maze, pony rides, duck races, farm animals, playground and giant tube slide. The Greenhouse Cafe offers yummy fall treats, hot dogs, chips, ice cream and more! You will not go hungry at Howell's!
There IS an admission. $8 per person. If you have kept your eyes open recently, there has been a Groupon offer for Howell's. I am not sure if it's still floating around … but you should check it out!
9. Dan – D Farms – Located in Knoxville. Are you kiddos a fan of the Angry Birds? Their corn maze is is an Angry Birds design! Lots of farm animals, pumpkins and other activities. Check out their website for different events they have going on this Fall season!
10. Williamsons Pumpkin Paradise – Located in Ankeny and has FREE admission 7 days a week. They offer a petting zoo, pony rides, bag toss, hay maze, hay rack rides, fire pit and more! Some of these activities are only available Saturday and Sunday.
Barrel train rides, pony rides, pumpkin cannon and corn maze have a small fee.
Which pumpkin patch and/or orchard is your favorite?