Monte just turned 3 years old and still had not been to a movie, in a movie theater! My dad and I took him to his first movie, Ice Age 2, last Saturday at Flix Brewhouse. We all had an awesome time!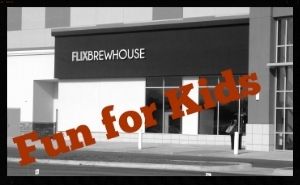 I know what you are thinking … "taking a child to a brewhouse?" Yes! Once a month Flix Brewhouse offers a special children's movie, Saturday morning, where the kids can wear their pajamas and enjoy the theater experience. I had been wanting to check out Flix Brewhouse since they opened at Merle Hay Mall and this was the perfect opportunity.
It was amazing to see how much Merle Hay Mall has changed since the remodeling and addition of the brewhouse! The entrance/dining area was very nice and the staff were super nice and helpful also!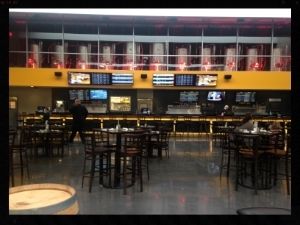 The awesome thing about Flix Brewhouse is not only the fact they brew beer and you can drink it DURING the movie, but they offer awesome food that you can eat DURING the movie! You have a server through out the whole movie! They offered a special brunch menu that included a breakfast burrito, pancakes (children portions), warm croissants, egg omlettes, and more!
They also offer coffee and mimosas 🙂 And of course their specialty brews. My dad and I tried the Luna Rosa Wit which is similar to a Blue Moon. Very good!
Tickets for the special monthly, children's movie is $5 per ticket plus whatever food and drink you purchase. The food and drink is reasonably priced for a theater. When you purchase tickets online it is recommended to come 25-30 minutes before the movie start time. I would highly recommend doing this! One, they will not let you into the theater once the movie has begun. Two, it's easier to order all your food and drinks before the movie begins, because it takes some time to get it and the lights are on. You can continue to order through out the movie also.
If you have a little one who has not been to a movie at a movie theater, I highly recommend crossing this item off your list at the Flix Brewhouse. We had so much fun!