It's the holiday season and one event to kick off the holiday shopping season is Small Business Saturday! Remember my post last year of all the awesome places to shop local in Des Moines? Well, Small Business Saturday is happening again this year on Saturday, November 29th!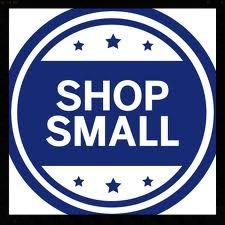 In celebration of Small Business Saturday another great event is taking place on Sunday, November 30th … The Small Business Sunday Holiday Shopping Extravaganza.
This event is specifically for local vendors to showcase all their art and businesses. Shannon Stimple, a local artist in Des Moines, participated in a Small Business Saturday event and there was such a great turn out that she decided to host one herself, this year on Sunday, November 30th from 12 pm – 5 pm at Z's Bar and Grill/Legion Hall.
There are so many participants signed up representing so many realms of art including: cooking spices, airbrush, photography, fibers, jewelry, pottery, gift baskets, body art, and tons more!
Vendors include :
Shannon Stimple with SMS Custom Designs–jewelry and not your typical Tie Dye
Lynsi Pasutti with Turtle Star Studio–functional & decorative slab pottery
Gayle Curtis with herbal delights
Karla Risius-Schumacher and Angela Perez with Gift Baskets and other Handmade Giftables
 SkeieScapes (Cindy Skeie) with bright, wonderful Photography
Ve

ronica Deitrick and Fuku Wonwon with Dog Hats and Accessories

Steve Baier with Air Brushed Masterpieces
Maggie Howe with Girl With A Sword Productions- Fibers and Scarves
John Gibney with JAG Photography
Sarah Norman with Alternative Artistry Body Art
Spice Shed has delicious, organic, salt free spice mixes
Joy Hockensmith with funky, cool Jewelry
Danèlle Stamps with savory kitchen must-haves from her family farm
Betsy Hemping with Deep Rooted Fine Beaded Art
Kim Bat Kreatures with Spooky Art
Kaitlin Flury with fantastical paintings
Anne Llewellyn with Shaded Tree Bakery will have scrumptious treats
Annie Wood-Long with her fashion-forward hair accessories for teens and kids
Meagan Tron of Trondo airbrush/spray paint art
D.Ryan Allen with his captivating and curious illustrations
Michael Lundberg with Meeka Mouse –painting
And perhaps a few more still to come!
(Image Source)
Why is it important to shop local?  When you buy local  you are doing four important things:
Supporting entrepreneurship
Building a strong community
Helping create local jobs in the community
Keeping money in the local economy
Spend your Black Friday cuddled up at home, digesting that wonderful turkey feast and go out to shop Saturday & Sunday to help your local community!
For more information about the Small Business Sunday Holiday Shopping Extravaganza please check out the official event page on Facebook.