It's been a bit since I have posted so I have lots or randomness to share!
1. Iowa State Fair and Alan Jackson Concert
I went to the final day at the Iowa State Fair Sunday (kid-less and husband-less) and had so much fun! We spent most of our time at the Iowa Craft Beer tent, but we did leave to check out all of the award winning animals too. I tried the famous Shrimp Corn Dog which was amazing! I also got a cup of chocolate chip cookies, had some chili/cheese fries and an apple cookie. Needless to say I was NOT feeling well on Monday!
The Alan Jackson concert was also great! My cousin, Kristin and I saw Alan Jackson last year in Cedar Rapids. We decided to go see him again (maybe this will become a yearly tradition?!)  Gary Allan opened up for him, which I had never seen in concert and he was also great. Kristin and I had a lot of fun dancing and singing along. The night ended with an awesome fireworks display at the grandstand. Perfect way to end the 2013 Iowa State Fair.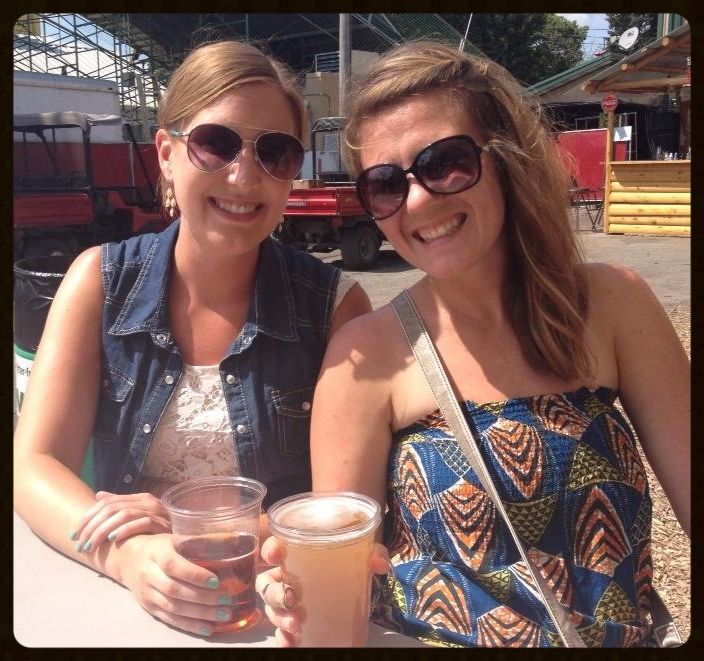 2. I like Kombucha 
I have tried Kombucha several times and  have not been too impressed, but I was at Whole Foods the other day and decided to pick up another bottle.
Guava Goodness is the one that won me over! If you are not a fan of Kombucha yet, give Guava Goodness a chance because it yummy! It also gave me a boost of energy and is probably a bit healthier then another cup of coffee. I know there are health benefits of Kombucha, but not sure of them all. I also know it's pretty easy to make. I definitely need to look into this further!
3. Pumpkin Apple Muffins 
Because of the cooler weather last week, I was getting super excited for fall stuff, BUT of course this week it has been between 90-100 degrees out again! URGH! Anyways, I made these Monday morning for my very special guests! They turned out great! You can find the original recipe here.
I made some alterations which you can follow below!
Ingredients
2 cups white whole wheat flour
2 tsp baking powder
2 tsp baking soda
1 tsp salt
1 tsp cinnamon
1 tsp ginger
1/4 tsp nutmeg
1/4 cup Sunflower Oil
2/3 cup maple syrup
1 1/2 cups pumpkin puree
2/3 cup almond milk
2 tsp vanilla
1/2 cup hot water
2 cups apples, chopped
I omitted the streusel topping all together 
Instructions
Preheat oven to 350 degrees.
Line muffin tin with paper liners
In a medium bowl, whisk together the dry ingredients.
Add the oil, maple syrup, milk, pumpkin, and vanilla to the dry ingredients.
Fold in the hot water and the apples until evenly distributed.
Spoon batter into muffins tins.
Bake 20-25 minutes, until toothpick inserted in center of muffin comes out clean.
Remove to wire rack to cool.
4. My baby got his first haircut last week 🙁 
Yepp, his baby mullet is no longer!
He did an okay job at first sitting in the chair with his cape, but shortly got antsy. No screaming and crying though! Overall, we were pretty happy with the experience!
Doesn't he look like such a big boy?!?
5. Go to Pier 1 Imports
One of my favorite places to shop is Pier 1 Imports. I love shopping for different decor items for the home. During the fall they always come out with some really cute things! It can be dangerous for me to go in there. Christmas is especially dangerous when they have all of their ornaments and all other sorts of Christmas goodness!
I signed up for their e-mail alerts and this week they sent me a coupon for $5 off $25 or more OR $10 off $40 or more! If you go to their website here, on the front page they have these coupons available for you too! They also have some great sales going on, so go get a head start on your fall and Halloween shopping NOW!
What do you know about Kombucha? What's you favorite flavor?