I want to share an awesome recipe for you juicers out there! Pulp Muffins! I have been juicing a lot more lately and when I am done juicing, I end up with soooooo much pulp …
I feel like I'm wasting food when I just throw it in the trash. I did some research of what others do with their pulp and I came across baking it into breads and muffins. What a great idea! Especially when you have some picky eaters (like Monte) he is getting some veggies, in what he calls "cake" and has no idea! 🙂
I came across this recipe and I had everything on hand, but did change it up a bit. Here are the ingredients I used …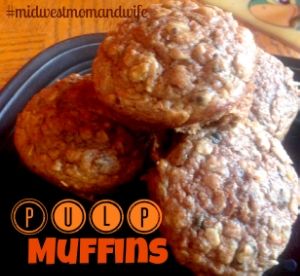 Ingredients
1 large banana
2 cups Juicer pulp
4 Tbsp Honey (I estimated, probably used a bit more)
1/2 cup applesauce
1/2 cup maple syrup
1/2 cup greek yogurt
6 eggs
1 1/2 cups whole wheat flour
1 1/2 cups rolled oats
2/3 cup chopped nuts (I used pecans)
2 tsp baking powder
2 tsp baking soda
1 tsp nutmeg
2 tsp cinnamon
Directions
Preheat oven to 350 degrees
Combine all ingredients in mixer and mix!
Spoon into muffin tins that are pre-sprayed. Fill them half way full.
Bake about 17 minutes. Each oven varies!
Let cool before removing from pan.
These are super tasty with a bit of peanut butter on them. Monte loved them! I also took about half and froze them. This recipe yields about 24 regular size muffins. If you do not think you will eat them all right away, make sure to freeze them and pull them out as needed!
What do you do with your leftover juice pulp?