I have to tell you about a REALLY fun park located in the Des Moines area, Altoona to be exact!
Ironwood Park or also know as the Pirate Park!
If you have kiddos Monte's age or older, you know how popular Jake and the Neverland Pirates is! Monte loves acting like a pirate and this is the perfect place for him to be even more like Jake!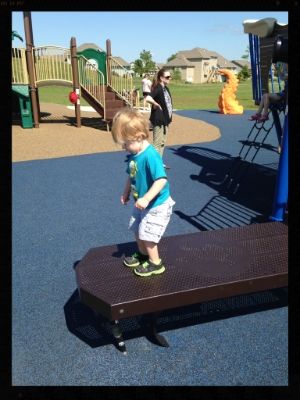 You can even walk the plank!
This is a newer park located on the very southwest edge of Altoona. We actually accidentally found it last summer when we were looking to meet for a play group. We ended up staying here to play because it's so much fun!
There are two playgrounds. The pirate ship shown above, and a much larger wooden playground off to the left side. The wooden playground also has slides, a bridge, and climbing walls.
This park is perfect for a half-day outing. Pack some snacks and even a sack lunch and spend the morning running and playing. There is even a HUGE green hill that kids love to run/roll up and down! This park can definitely entertain for hours.
I would recommend checking out this park now, while it's cooler out, instead of in the middle of the summer. Since it's a new area of town, they are still building in the surrounding area and there are not much trees for shade. It can get super hot, super quick!
Have you been to Ironwood Park before? What is your favorite park in the Des Moines area?