I've been struggling with fun activities for Monte to learn shapes, colors, numbers and letters. Of course, Pinterest has a zillion of awesome ideas, but it can be overwhelming! Check out my Kids Activities board!
Foam Shape and Color Sort
Are you familiar with all the different foam activities and foam sheets you can purchase at stores such as Michaels? Monte is still a little young to play with the pre-made activities they offer, due to the small pieces, so I picked up a HUGE package of foam sheets in multiple colors over the weekend.
I started by cutting out different shapes in various sizes and various colors. I gathered random objects out of his toy collection to trace.
I traced and cut out the different sizes. They are not perfect, but he should get the idea of the shape  🙂 After I cut them out I labeled one side the shape and the other side the color. This way Monte can play with the shapes and visually see the difference between them. He can also practice with his colors too!
Mini Pizzas
A lot of you may have seen this pin floating around Pinterest. I wish I could take credit for this awesome idea! Monte LOVES pizza! Whenever I would purchase frozen ones from the stores, I would re-heat them and the crust would become too stiff and hard making it difficult for him to eat.  Then I came across this idea! The great thing about it is you can make them however you like. You can use whatever sauce you like, cheese, and toppings. Below is what I used!
Ingredients 
Grands Canned Biscuits
Baby Spinach
Pizza Sauce
Shredded Mozzarella Cheese
Pepperoni
Directions
Preheat your oven to 350 degrees
Line baking sheet with parchment paper
Flatten biscuit rounds
Top each round with pizza sauce
Top each biscuit with baby spinach (great way to hide those veggies!)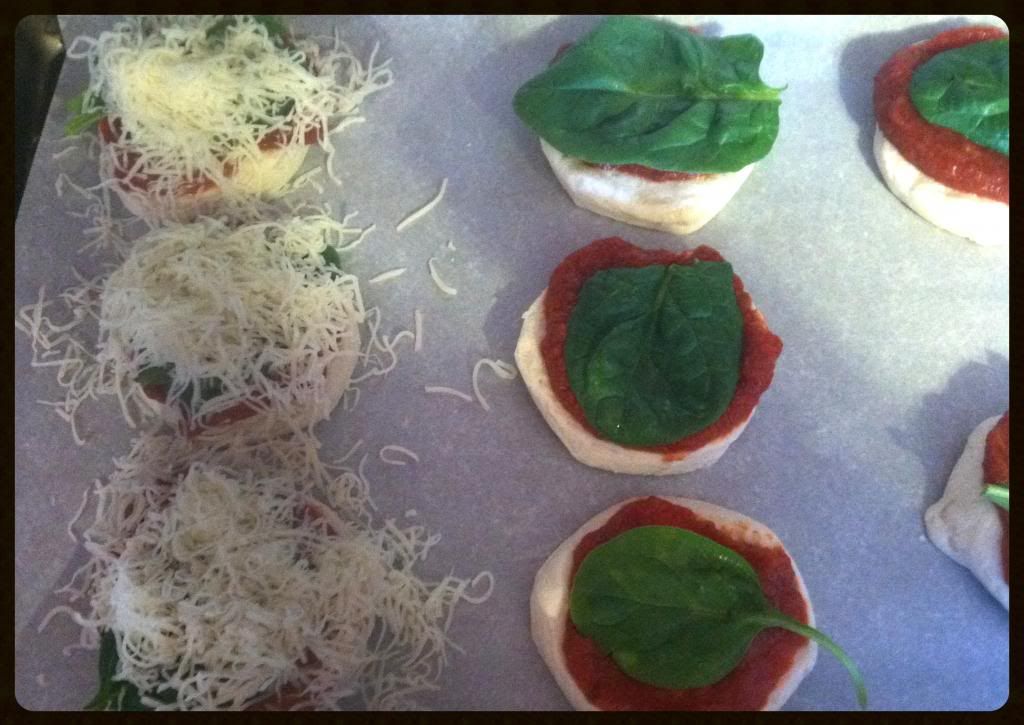 Sprinkle with mozzarella cheese
Layer pepperoni on top or any other topping you would like to use!
Place into the oven for about 15 minutes
These are great to freeze and thaw when ready also!
What is your favorite recipe to freeze and thaw for your kiddos?